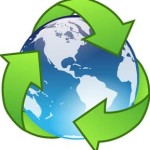 Do you try to recycle but have trouble staying committed? Or are you not sure how to go about recycling? Fear not, you're not alone! But recycling doesn't have to be hard, read on to learn tips and tricks to make recycling easier, and some things you may not have known before.
Let's start with the some interesting facts about recycling…
According to Recycle Across America…
Glass can be recycled an infinite amount of times and never wear out and contrary to popular belief, you don't need to remove the labels before recycling, they will burn off in the recycling process
Recycling a stack of newspapers three feet high saves one tree
Recycling one ton of plastic bottles creates enough energy to supply electricity for a two person household for one year
Is that enough to motivate you to recycle? Now lets look at some recycling tips and tricks…
When recycling cans, keep the tabs attached, it helps make sure that everything will be recycled and the tab won't be lost in the recycling process. The same goes for plastic bottles and their caps, so crush the bottle up, put the lid back on and toss it into the recycling bin.
Repurpose cardboard boxes and paper shopping bags as recycling bins for inside the home. When you designate a specific container inside the home to collect recycling it is much easier to keep recyclable products out of the trash can. Once the container is full, you can easily transport everything to your outside recycling bin, container and all!
Don't collect recyclables in a plastic bag!! Plastic bags such as trash bags or grocery bags are

NOT

recyclable in regular recycling. Plastic bags can slow down the recycling process by causing jams in machines or they can contaminate other products. But there is good news! Many grocery stores collect plastic bags to recycle them in the right way. Find out where to recycle plastic bags near you! Sandwich/snack baggies, newspaper and bread bags can be included too!
Styrofoam cups aren't recyclable from home, but most Chick-Fil-A locations now feature special collection bins for styrofoam items.
Clearly mark your chosen recycling bin as "Recycling" to ensure that the collectors know which bin to empty, just make sure that you only put recyclable items in that bin.
Check out IWantToBeRecycled.org

 t

o learn what items are recyclable, how to recycle them and even what they will be recycled into.
Find a recycling center near you  to know where you can drop off your recycling items, or call 311 to learn about recycling pick up options.
Now that you know these tips to help make recycling easier you're ready to become a committed recycler! And you're ready just in time to celebrate America Recycles Day on November 15th!
You can learn how to eliminate some recyclable items from your house for good such as junk mail, phone books and more by clicking here. (HINT, it's as simple as taking a picture with your smartphone!)
Some things to remember before you go…
Remember that every bit of recycling counts, so start small and work your way up!
There are more things that can be recycled than just paper, bottles and cans, you can visit IWantToBeRecycled.org to find out more.
Recycling isn't just getting rid of your trash, you can up cycle old items into new! Click here for some ideas. Or here. Or

here

.