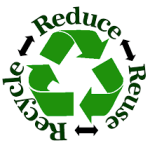 "Reduce, Reuse & Recycle" is the everyday practice of most professional organizers.  At Go to Girl, we regularly encourage reuse of household items in our organizing projects.  Once clutter is reduced, we also set up systems to help our clients keep the clutter away.  So much of the clutter we see is paper – in every shape and form!  So, although America Recycles Day is several weeks away (Nov. 15th), we want to share a few easy and effective tips today to help make your recycling efforts easier.
Stop receiving junk mail in the snap of your smartphone camera!
Did you know that the average American household receives over 800 pieces of junk mail every year? While it fills recycling bins everywhere, it is also a persistent clutter issue that most people would love to eliminate from their home completely.  Well, you can do that with the PaperKarma app:
Search for the PaperKarma app in the App Store or Google Play Store.
Download the free app to your device.
Take a picture of the address label on your unwanted junk mail (make sure to include the name of the mailer in the photo).
Submit to PaperKarma.  They'll do all of the work – even keeping track of your requests.
Watch this clip from the Today Show.  It demonstrates how easy it is to use PaperKarma.  It is effective too!  One of Go to Girl's clients was able to eliminate the regular delivery of over 30 catalogs just by using this app.  Give it a try and start reducing the amount of junk mail coming into your home!
Are you still receiving the Yellow Pages?
Whenever the phone book is delivered, I wonder how they stay in business.  I also wonder how they justify printing so many books that are immediately tossed into the recycling bin.  Of course, if the publisher doesn't know you don't want the book, they will continue to deliver it year after year.
Opting out of the phone book is another fast and easy process. By visiting www.yellowpagesoptout.com you can easily register and choose to no longer receive the phone book.  Yellow Pages publishers know that there is no point in delivering a print directory to someone who does not want one.  So they provide the opt out service to stop or limit your receipt of the phone book.
Often clients will say they keep the phone book "just in case".  Once we start talking about how they actually find products & services, clients realize there are many other ways to find what they need and admit the phone book is rarely used.  In these cases, it's hard to justify storing the books when they are used so infrequently.
Do you want your sales receipt with that purchase?
The last time I bought Tic Tacs, my sales receipt from the drug store was almost as long as my arm.  It included coupons, advertisements, plus the ever present opportunity to take a survey and win lots of money.  It ended up in the trash.  Most of us are accustomed to taking a sales receipt with the smallest of purchases.  It is a habit we should consider breaking, and here is why:
Most cash register sales receipts are printed on thermal paper, which contains BPA.  Now, research conducted at the University of Missouri is reporting data about the hazards of the BPA on these receipts.  The chemicals on the paper are easily transferred through skin.  In particular, after using a hand lotion and touching a receipt printed on Thermal Paper, subjects showed a rapid increase of BPA in their blood.
Also, a New York Times article reported  "About 30 percent all thermal paper receipts enter the paper recycling stream."  Recycled paper is processed and remade into other paper items such as: toilet paper, napkins and food packaging. Of course the BPA contamination says in the remade paper.
The EPA has been looking for alternatives to the use of BPA in thermal paper but until then, maybe we don't need to take all of the receipts offered – especially if they're going to end up as household clutter.  You can avoid thermal receipts by accepting email receipts as an alternative to printed copies. You can also decline your receipt at the gas pump and the ATM. Finally, do not put your thermal paper receipts in with your recycling as it contaminates all recycled paper.
Can I recycle this?
In researching for this issue, Go to Girl found another useful resource:  www.iwanttoberecycled.org.  Use this site to learn what is recyclable (or not), how to recycle it and what recycled products are made into!  Check it out!