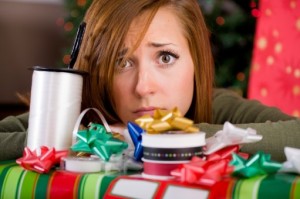 With less than a week before Christmas Day, I hope you have the holiday spirit and feel ready for anything.  But in case you are beginning to stress out about what still needs to be done, please take a deep breath and remember these 5 rules to get you through.
Tips to Avoid Holiday Stress
1.  There is a thin line between challenged and overwhelmed
If you are feeling overwhelmed, look at everything you have to do and edit your list.  Some of the things you may want to accomplish might not get done.  It is OK.  None of this is mandatory.  Don't let yourself get overwhelmed. Being challenged is manageable, being overwhelmed is not.
2.  Adapt to changing circumstances
You have just learned you will have 5 more people for dinner than you planned, and the special gift you wanted to give someone is on backorder.   Deal with it!  Think of the best way to accommodate the change of circumstances and move on. Worrying will not solve the problem.
3.  Outsource the task
Instead of wondering how you are going to make it happen, think about who can make it happen for you.  Call a grocer who delivers.  Pay, print and ship your package from home instead of waiting in line at the post office.  Call an organizer to get your family room de-cluttered before company arrives.  Find another way that takes the burden from your plate.
4.  Let the phone ring
A ringing phone is an invitation to talk.  You are not required to take every call.  Let people leave messages.  Then you can listen and return the call when it is convenient for you.
5.  Look at the big picture
There may be a lot to do in the upcoming days but the easiest way to get through your "To-Do" list is one chunk at a time.  Write it all down and break it all into manageable chunks. Seeing the list will give you perspective and help you prioritize.
Relax and have a very, merry Christmas!
Go to Girl Organizing Solutions helps busy people get more accomplished.  Contact us today if you need help with a single project or want a whole house make-over!