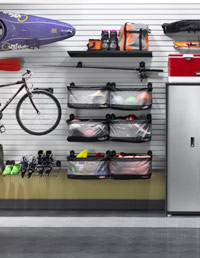 Now that the flowers are blooming and the birds are singing again, it is time to throw open the doors and take stock of your garage!  So often the garage becomes the family dumping ground.  Here are 5 easy suggestions (plus one bonus tip) to help you reclaim your space.
1.  As with any organizing project, start with purging and sorting.  Get rid of EVERYTHING that is broken, past its prime and no longer in use.
2.  Consider donating anything that can still be used – instead of adding it to the landfill!
3.  Go vertical – install pegboard on the walls to store your tools.  They'll be off of the floor, out-of-the-way, and easy to see.
4.  If space permits, add a workstation area with an adjustable stool for projects and repairs.  Use  pegboard above the workstation for easy access to smaller tools.  Don't forget a lamp.
5.  High shelves (above the pegboard) are great for storing items that occasionally used, such as holiday and other seasonal decorations.
6.  Bonus tip: Use ponytail holders (the kind with plastic balls on the ends) to wrap electrical cords and keep them in place.  Hang them on the pegboard.