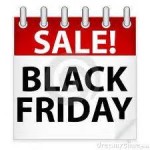 Let's start with Black Friday: The day after Thanksgiving typically starts the holiday shopping frenzy. This year Black Friday falls on November 27th, although a great deal of stores will open on the 26th and some stores have already started offering Black Friday deals.
That's right. Stores including Macy's and Amazon.com have begun to advertise "big sales" going on now to lure people in before Black Friday. But that doesn't mean they aren't opening at special hours for Black Friday…
Who is opening when?
Macy's is continuing their tradition from 2013 and opening at 6 PM on Thanksgiving Day. The store will have a variety of Extra Special deals on apparel, jewelry, handbags, kitchen appliances and more. Check out their Black Friday Ad here.
 Target

 

will open at 6 PM on Thanksgiving Day. They will offer their "lowest prices ever on all T.V.s" along with other door busters including: 25% off Apple TV, free gift cards when you purchase any Apple iPad mini, iPad Air or Apple watch plus movies starting at only $4 and MANY more. You can check out their Black Friday Ad here.
Walmart will open their doors at 6 PM on Thanksgiving Day and is taking preventative measures to avoid dangerous situations that they have had in the past. This year Walmart's Black Friday motto is, "Deals, Availability, Simplicity". The large retailer is offering deals on TVs, tablets, hot children toys, kitchen appliances and much more. You can check out their Black Friday Ad here to see all of their deals.
Kohls will open their doors at 6 PM on Thanksgiving Day, but will start offering Black Friday Deals at Kohls.com on Monday November 23rd.  Some locations are offering free movie tickets to the first 100 customers on Thanksgiving. Other offerings include $15 Kohl's Cash for every $50 you spend and special pricing on items ranging from jewelry, kids toys, housewares and much more. Electronics are on sale too including: fit bits, speakers, TVs, gaming devices and more,Check out their Black Friday Ad to get a jump start on their sale.
Sears will open their doors at 6 PM on Thanksgiving Day and is offering over 1,000 door busters  including deals on tools, appliances, apparel and more. Check out their Black Friday Ad here.
Staples will open their doors at 6 AM on Black Friday, but you can take advantage of their Black Friday sales online all day Thursday. Some of the items you can find deals on at Staples include Windows 10 laptops, tablets, Kindles, printers, speakers, office furniture and much more. Check out their Black Friday Ad to see if they have what you're looking for! Staples is even offering "buy online and pick up in store", but be careful, they have a 1 item per person limit on some highly sought after electronics.
Toys-R-Us  will open at 5 PM on Thanksgiving Day and is offering a $10 gift card to use in December with any purchase of $75 or more. Check out their other deals in their Black Friday Ad here.

JCPenny will open at 3 PM on Thanksgiving Day but you can shop their deals online all day Thursday and they are offering free shipping on any orders over $49. Can you say avoiding the crowds?? Yes please. Their sale items include jewelry, apparel, housewares, bedding and much more. Check their Black Friday Ad out here.
Best Buy will open at 5 PM on Thanksgiving Day, but will be offering their Black Friday deals online all day Thursday. Best Buy is also offering free shipping on all purchases ALL season long through 1/2/16. Best buy will have deals on TVs, computers, gaming systems, cameras and much more, check out their Black Friday Ad here.
EBates is another money saver – not just on Black Friday but all year long.  If you prefer to do you shopping online, check out their website to see the savings offered at more than 1,800 retailers including:  Macy, Under Armour, Nordstrom, Overstock.com, Amazon.com Pier 1, Toys R Us and so many more.
Remember it is a good practice to call the stores ahead of time to verify opening times as they can vary by location!
Another good practice for Black Friday shopping is to visit stores you plan to shop on Black Friday ahead of time. You can determine where the items you plan to purchase are located, preview them and ask questions without the pressure of all the other shoppers.
Now lets review some useful shopping apps…
Go to Girl has researched shopping applications that you can easily download to your smartphone and found the following apps to be the most useful.
Scan and store all of your loyalty cards on your phone so you don't have to keep all of the cards in your wallet or on your keys
Store loyalty or club cards, gym membership cards, library cards and gift cards
Simply scan the barcode through the app, select what store the card is for and voila! Your card is now saved in the easy to access app
Create shopping lists with coupons included to make sure you get the best deals, lists can be shared with friends and family
Scan an items barcode to compare prices from other stores
Scan and store loyalty or club cards
Store your favorite products or items you buy often to get notified when they are on sale
Get store alerts to know when stores are having special sales
Scan barcodes on food items to get nutritional information
An app specifically for Target
The apps presents special offers that are ONLY available on cartwheel
You add the special cartwheel items to a shopping list from your phone or computer.  When you scan the barcode in app at checkout, the discounts are applied then and there
cartwheel deals change regularly and CAN be combined with other coupons.  They can also be used over and over until they expire!
Finally, the Target Red Card gives 5% off store wide all the time (including cartwheel purchases), free shipping and extended return times.  Available as a debit or credit card, the savings can really add up with this card!