After you've gotten gifts for everyone on your list you're ready to face the next challenge – wrapping them! Some people wrap as they buy, others plan a time to sit and wrap everything all at once. Either way, keeping your wrapping supplies organized is a good idea for several reasons:
» Wrapping paper gets messy and torn when improperly stored
» It is easy to find what you need when you need it (this is important all year-long)
» Having nice paper & supplies makes the wrapping process more fun
 So pour yourself a glass of wine, turn on your favorite Christmas movie and let the wrapping begin!
---
Store rolls of wrapping paper
in  "re-purposed"
plastic bag dispensers,
---
A simple garment bag can be used for storing wrapping paper.
This solution uses minimum space 
and 
w
hen hung in the closet
uses very little space 

& is  out of site.  If you don't have one you can
---
Use closet door organization systems
 and/or magazine racks
to keep wrapping supplies sorted
and easily accessed.
This solution can handle a variety of items!
---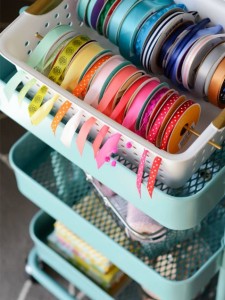 I love this idea for ribbon storage.
It is easy to make & doesn't use a lot of space.
Plus you can carry it into any room or space
where you need ribbon.
---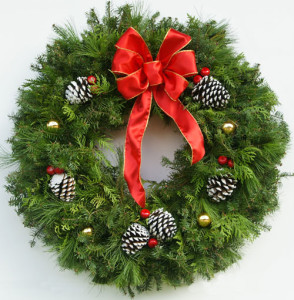 To all of our friends, fans and colleagues…
May the Christmas season 
fill your home with joy,
your heart with love
and your life with laughter.
(author unknown)