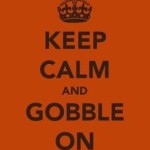 Thanksgiving is upon us!  Hopefully, you've planned in advance – your shopping is done, your guest list is confirmed and you are excited about hosting a wonderful holiday party.
However despite all of your careful planning things, can get stressful when it is time to get the meal on the table.
Stress happens when there is too much happening in too little time or too little space.  We want Less Stress!
Here are a few tips to help you manage the kitchen activity and keep the day stress-less:
Write out a timeline for the day. It is easy to get sidelined with family and guests around. You may not follow the timeline exactly but it helps to have an idea of what should happen when.
Keep the party out of the kitchen!  Set up an area for drinks and appetizers away from the kitchen.  Ask a specific person to keep an eye on the ice and other supplies.  It will be much easier to get everything on the table on time when the party is out of your work space.
Plan some downtime for yourself.  This means taking at least 15 minutes out of the kitchen to have a glass of wine and talk to your guest.
Ask for help:  Opening wine(s), filling glasses with ice, adding salt, pepper, butter, etc. on the table, lighting candles…. These tasks can be done by almost anyone and will be a big help when you are getting the food ready for the table.
Some say leftovers are the best part of the Thanksgiving dinner.  Be prepared.  Whether you are sending food home with your guests or stocking everything in your own refrigerator, have containers and wrapping supplies ready.  Also, keep a space available for this part of the cleanup.